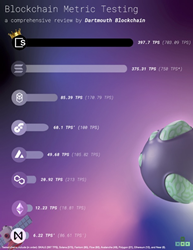 "During the bear market, much of the DeFi, GameFi, and NFT volume has greatly decreased. Despite the falter in the rest of the sector, SKALE has experienced significant growth in month over month transactions." Dartmouth Blockchain Group

SAN FRANCISCO (PRWEB)
February 01, 2023
SKALE, a multichain network with more than 19 live zero-gas EVM blockchains, was ranked top network for speed of transactions and finality out of 8 of the largest networks according to Dartmouth Blockchain Group. Networks in the study include: Ethereum, SKALE, Solana, Near, Avalanche, Polygon, Fantom and Flow.
Key Takeaways:

Of the 8 blockchains tested, SKALE had the fastest transaction per second (TPS) with Solana coming in a close second, after which speeds dropped dramatically.

SKALE was nearly 30X faster than Ethereum, the Blockchain it is designed to scale.

SKALE achieved the fastest finality at 1.46 seconds and only three blockchains were able to achieve sub 2 second times (Fantom and Avalanche were second and third fastest respectively).
It's not uncommon for Blockchains to make claims about the speed of their transactions and finality, but understanding whether those numbers align with the real world is difficult at best. After many conversations with developers in the community it became clear that the numbers often weren't accurate, or based on unrealistic setups, or sometimes pitching to a future, but not as of yet attained, value.
Developers are in need of some third party benchmarking they can look at when they are assessing whether to build on a given network. Dartmouth Blockchain group was commissioned to put together an independent analysis of the top 8 Blockchain networks.
For the testing, Dartmouth Blockchain group consulted with various developers who developed for these chains, as well as dapp developers in the broader community. For more information on their testing methodology, they've included a whitepaper at the end of the Op Ed piece with specific details.
In the report, Dartmouth Blockchain noted "After thorough review of SKALE's technical back-end infrastructure, combined with it's continued commitment to supplying computing resources for those who wish to endeavor in the dApp space, it is clear that SKALE has a concrete road map to what they want to accomplish, goals for the future, and the problem they are trying to solve in the crypto-world for up-and-coming developers."
Check out the full Dartmouth Blockchain Op Ed and White Paper on Methodology.
Check out the full Dartmouth Blockchain SKALE Deep Dive.
For more information on SKALE

View SKALE's Network Stats

‍Join Discord

‍Documentation on deploying a Dapp to SKALE

Learn more about SKALE $SKL token
About SKALE

SKALE is an Ethereum native, modular blockchain network composed of high-throughput, low-latency blockchains that are optimized for Web3 user experience. SKALE chains offer zero gas fees to end-users and have advanced features such as on-chain file storage, interchain messaging, zero-cost minting, ML/AI smart contracts, and enhanced security features. See the latest network stats.
The SKALE network enables developers to deploy their own EVM blockchain in minutes without sacrificing speed, security, or decentralization. Welcome to the SKALEverse.
Share article on social media or email: